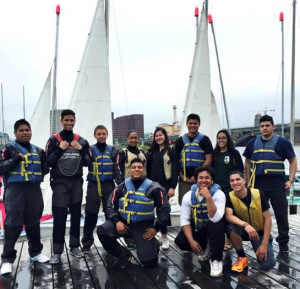 Piers Park Sailing Center is home to the East Boston High School Varsity Sailing Team.  One of very few Boston Public Schools Sailing Teams, the Eastie High Jets compete in the Massachusetts Bay League.  The team is comprised of 12 East Boston High School students and is lead by head coach Jasmine Nijjar, a graduate of Eastie High.
The team is funded by My Brother's Keeper Boston, an initiative to provide mentoring and to close the opportunity gap for young men and women of color in the City of Boston.  The team was featured on a Boston 25 News story in 2017.  
Our team practices on a fleet of FJ's (Flying Junior Dinghys) donated by Boston University.
Want to learn more about our High School Sailing program? Contact info@piersparksailing.org