Our Team
Our leadership team and senior staff all learned to sail at Piers Park Sailing Center as children in the inclusive youth development program. That's impact fulfilled.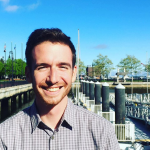 Alex DeFronzo, Executive Director | adefronzo@piersparksailing.org
Alex first got involved with Piers Park Sailing Center in 1999 as a child in the Inclusive Youth Development Program.  He learned to sail at PPSC and the program inspired him to become more involved in community building and outreach.  Alex went on to manage a number of group homes and worked in development for a nonprofit human services agency.  He returned to PPSC in the spring of 2017 as Executive Director.  Alex is dedicated to fulfilling the mission, vision, and values of Piers Park Sailing Center because of the profound impact that the program had on him as a child.  He hold's a Master's Degree in Public Administration from Suffolk University and is a US Sailing Certified Keelboat Instructor.  Alex is a resident of East Boston and strives to create community value by partnering with other local organizations and agencies.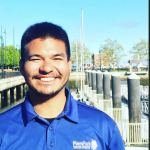 Daniel Moreno, Director of Operations | dmoreno@piersparksailing.org

Daniel holds a Bachelor's Degree in Economics from the University of Massachusetts, Amherst and has been a resident of East Boston since emigrating from Colombia in 1996.
Daniel crewed for several Boston Harbor ships, honing skills in marine maintenance to big-boat racing. As a sailing instructor and lesson coordinator for PPSC, Moreno skippered sails for patients from the Spaulding Rehabilitation Center in Charlestown and youth groups from a number of local adaptive schools and organizations.
Board of Directors
Officers:

Chair: Brett Van Gelder, Microsoft
Vice Chair: J.P. Dunn, retired
Treasurer: Mike Bruno, Competitive Power Ventures

Members:

Mary Cole, retired
Michael Hansen, Deloitte
Bob Brennan, retired
Dave Greenwald, PhD, Relay Technology
Robert Hughes, MD, MD² Boston 
Maureen McKinnon, Spaulding Hospital
Coleman Nee, Triangle, Inc.
Our Supporters
Corporate Support

Dick's Sporting Goods Foundation
Distrigas of Massachusetts
Downeast Cider House
East Boston Savings Bank
Eastern Bank
First Republic Bank
InVivo Therapeutics
Liberty Mutual Foundation
Massachusetts Port Authority
MG2
SAP America

Foundation Support

The Agnes M. Lindsay Trust
Amelia Peabody Foundation
Barr Foundation
Cabot Family Charitable Trust
The East Boston Foundation
The East Boston Project Advisory Committee
Mabel Louise Riley Foundation
The Peabody Foundation
The Carl & Ruth Shapiro Family Foundation
USOC Olympic Opportunity Fund
Who Says I Can't Foundation