Our Team
Our leadership team and senior staff all learned to sail at Piers Park Sailing Center as children in the inclusive youth development program. That's impact fulfilled.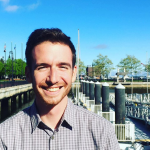 Alex DeFronzo, Executive Director | adefronzo@piersparksailing.org
Alex first became involved with Piers Park Sailing Center in 2001 as a child in the Inclusive Youth Development Program.  He learned to sail at PPSC and the program inspired him to become more involved in community building and outreach.  Alex went on to manage a number of group homes and worked in development for the Northeastern Family Institute of Massachusetts, a nonprofit human services agency.  He returned to PPSC in the spring of 2017 as Executive Director.
Alex is dedicated to fulfilling the mission, vision, and values of Piers Park Sailing Center because of the profound impact that the program had on him as a child.  Alex is a resident of East Boston and strives to create community value by partnering with other local organizations and agencies.  He draws inspiration from his great-grandmother, Anna DeFronzo, who was a prominent East Boston community activist.  Alex holds a BA from the University of Massachusetts, Lowell and a Masters in Public Administration from Suffolk University.  He is a member of the Alpha Kappa Delta International Sociology Honor Society and Pi Alpha Alpha Global Honor Society for Public Affairs & Administration.  Alex is also an associate member of the East Boston Project Advisory Committee (Pierpac).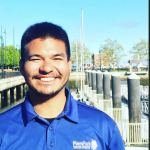 Daniel Moreno, Director of Operations | dmoreno@piersparksailing.org

Daniel holds a Bachelor's Degree in Economics from the University of Massachusetts, Amherst and has been a resident of East Boston since emigrating from Colombia in 1994.
Daniel crewed for several Boston Harbor ships, honing skills in marine maintenance to big-boat racing. As a sailing instructor and lesson coordinator for PPSC, Moreno skippered sails for patients from the Spaulding Rehabilitation Center in Charlestown and youth groups from a number of local adaptive schools and organizations.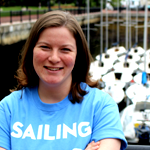 Catherine Domina, Youth Program Director | ydp@piersparksailing.org
Catherine has been part of Piers Park since 2007. She started as a student in the youth program and worked her way up from Future Leader to Instructor to Assistant Youth Coordinator; since 2013, she has steered the helm of our youth program as Youth Program Director.
Working in the youth, adult, and adaptive programs throughout her time here, this life-long Eastie resident has been part of all the great things Piers Park has to offer. Catherine graduated Thomas More College of Liberal Arts, studying the humanities on their New Hampshire and Rome campuses. In the off-season, she teaches high school math in Winthrop, and enjoys coaching their sailing team during the spring.
Board of Directors
Officers:

Chair: Brett Van Gelder, Microsoft
Vice Chair: J.P. Dunn, retired
Treasurer: Mike Bruno, Competitive Power Ventures
Clerk: Mary Cole, retired

Members:

Michael Hansen, Deloitte
Shannon Viera, HCA
Robert Hughes, MD, MD² Boston 
Maureen McKinnon, Spaulding Hospital
Coleman Nee, Triangle, Inc.
Timothy Brown, Solstice
Mark Whitney, Whitney Law Group
Johanna Young, Sotheby's International Realty
Jane Derderian, Boston Harbor Cruises
Timothy Gover, Navy Blue Cruise
Our Supporters
Corporate Support

Amquip Crane
Boston Harbor Shipyard & Marina
Distrigas of Massachusetts
Downeast Cider House
East Boston Savings Bank
Empower East Boston
First Republic Bank
Greenville Real Estate Group
Massachusetts Port Authority
MG2 Group

Foundation Support

The Agnes M. Lindsay Trust
Amelia Peabody Foundation
The Boston Foundation
Christopher & Dana Reeve Foundation
The East Boston Foundation
The East Boston Project Advisory Committee
The East Boston Savings Bank Charitable Foundation
The Hamilton Company Charitable Foundation
Mabel Louise Riley Foundation
My Brother's Keeper Boston
The Peabody Foundation
The Carl & Ruth Shapiro Family Foundation