Harbor Explorers program
PPSC's marine ecology program provided in collaboration with Save the Harbor/Save the Bay. Kids learn about marine life through a hands on experience.  Trapping lobsters and crabs, observing jellyfish, taking pictures with underwater cameras, fishing off the dock are just a few of the activities they will enjoy.
The Harbor Explorers Program is a full day  summer program open to students ages 6-9. Explorers rotate through a fun filled day of on-the-water and land-based activities including sailing, kayaking, yoga, marine science exploration, local history lessons and nautical crafts.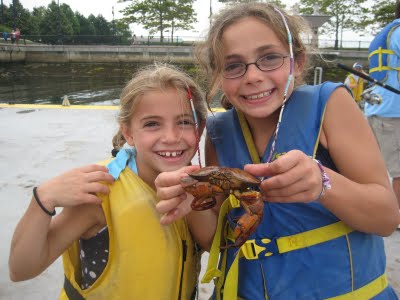 Summer Sailing program
Students and instructors work together each day to create goals that align with each individuals level progression throughout the week.  Some levels can be completed within the week, while others take a bit more time. Student progress is tracked through "The Little Red Book" and stored at PPSC from season to season. This allows students to pick up where they left off form previous years and not worry about completing a level before leaving for the season.
Curriculum and Progression
Beginner (Green Level): Teamwork is the main theme of the Green Level, the introduction of a child's experience at Piers Park. The history of Boston Harbor, understanding meteorology, and beginning to learn how to work together as a "crew" are key components of the Green Level. Basic sailing skills and terminology is taught and the focus is on having fun and making new friends. When the green flag is displayed, all levels are permitted to sail.
Intermediate (Blue Level): Responsibility is the core value of the Blue Level. The curriculum of this course is designed to foster the progression of the sailor and to continue their development. Instructors mentor students to take on more responsibility. Through hands-on learning and on-the-water training, self-confidence and independence are promoted. When the blue flag is displayed, sailors must remain within sight of PPSC.
Advanced (Yellow Level): The Yellow Level emphasizes leadership, communication, and working as a strong team. Sailors will continue to learn how to work as a crew as they develop more advanced safety, navigation, and sailing skills. When this flag is displayed, sailors must remain within the inner harbor.
Expert (Black Level): The Black Level focuses on racing and mentorship. Students and Future Leaders aspiring to become full-fledged instructors learn how to effectively deliver a lesson plan and lead the crew as their trusted skipper. There is no corresponding flag to this level.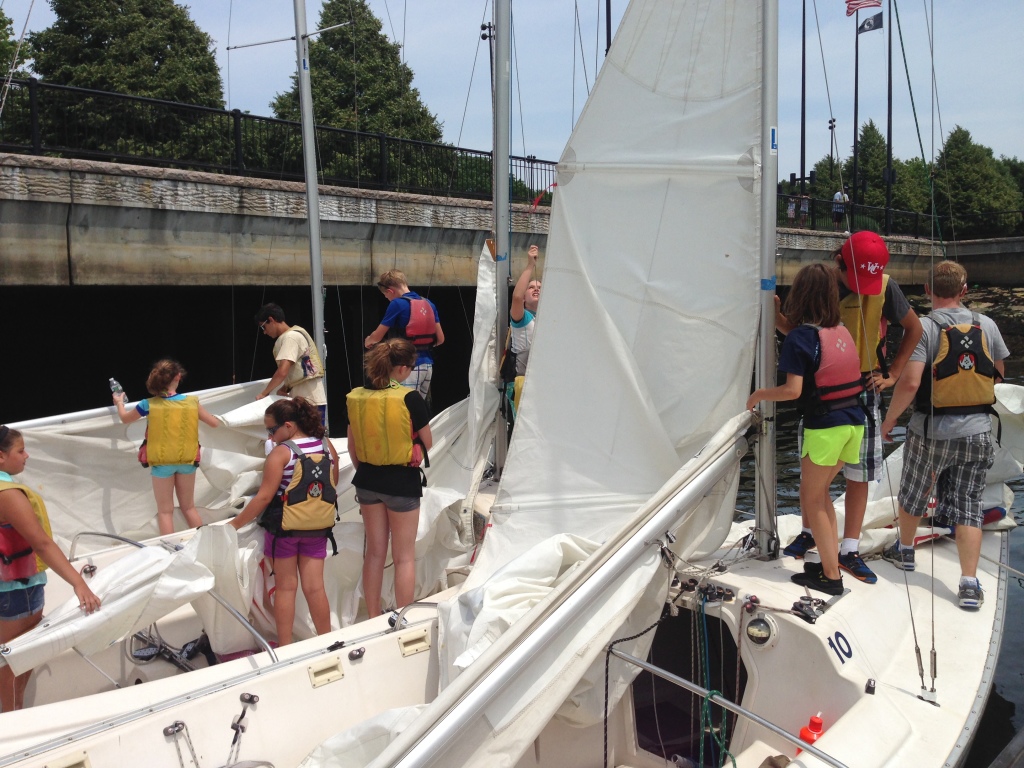 Frequently Asked Questions
Are the registration links above for both Harbor Explorers and Summer Sailing?
YES!
What's the difference between Harbor Explorers and Summer Sailing?
Harbor Explorers is for youth ages 6-9. Students will participate in activities like fishing, lobstering, kayaking, sailing and other water activities. It is a FULL DAY program from 9am-4pm.
Summer Sailing is for youth ages 10-18. Students will progress through 4 levels of curriculum and gain the confidence and knowledge to skipper and crew the boat independently. It is a HALF DAY program running a morning (9am-12) and an afternoon session (1-4pm) each week.
*Students CANNOT enroll in both a morning AND afternoon Sailing session.*
Can I register for more than one session?
Piers Park Sailing Center strives to provide programming to hundreds of youth throughout the Boston area. In order to provide programming to all students interested in participating, we ask that students only enroll for one week of the season.
My child was enrolled last year. Is his/her swim certificate still on file?
YES! Contact us so we can re-load it into your parent profile!
.